The twin towns of Tea Gardens and Hawks Nest are uniquely located on the north shore of Port Stephens and only an hour's drive north of Newcastle. It is only two and half hours easy travelling from Sydney, on the F3 and dual lane Pacific Highway, making the area an ideal weekend getaway. The area is a major drawcard, well known for a variety of activities including surfing, sailing, water sports, bush walking and fishing. The Club is situated right in the heart of Hawks Nest and is very easy to find after taking the Tea Gardens/Hawks Nest turnoff on the highway.
Andrew McCormack
Head PGA Teaching Professional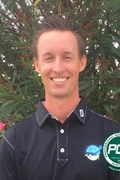 Andrew completed his PGA traineeship in 2010 at Charlestown GC. During his traineeship he won the 2009 NSW trainee championship at Hawks Nest Golf Club. Andrew is now taking on his first club head professional position here at Hawks Nest Golf Club where he is sharing his passion to help members visitors and juniors all improve their games.
Zac Leach
Golf Professional
Sanderling Ave, Hawks Nest, NSW 2324
02 4997 0740
Monday

Tuesday

Wednesday

Thursday

Friday

Saturday

Sunday

6:00am - 5:00pm

6:00am - 5:00pm

6:00am - 5:00pm

6:00am - 5:00pm

6:00am - 5:00pm

6:00am - 5:00pm

6:00am - 5:00pm